Manufacturers are increasingly choosing composites instead of metals in various structures to reduce weight as well as to protect against corrosion. 3D woven fabrics, in particular, have been used in a variety of structures, from marine hulls and coal scrubbers to downhole fracking components and ballistic and blast protection.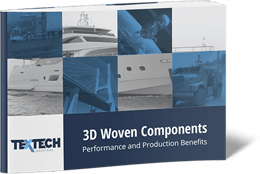 In our new eBook, 3D Woven Components: Performance and Production Benefits, we break down the advantages of 3D weaving, including:
Protection from delamination
Elimination of crimp
Significant cost savings
Fill out the form to download your copy of the eBook and learn about the benefits of 3D weaving capabilities.