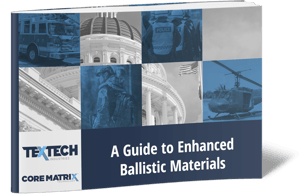 In countries and regions across the world, enhanced ballistic protection has become a key aspect of protective gear for armed forces. Providing police, military personnel, and public servants with the confidence they need to handle potentially dangerous situations in their daily line of duty, ballistics materials serve as the last line of defense in countless situations.

Learn more about how our Core Matrix Technology™ materials allow manufacturers to create lighter, more flexible, and more comfortable body armor with shorter lead times.
Access the guide by filling out the form to the right!
Tex Tech Quality Policy: Tex Tech will meet its customers' needs and requirements by providing the best value through leadership and continuous improvement of process, service, and the Quality Management System.