Demonstrably Superior Fabrics Engineered to Surpass Workplace Safety Standards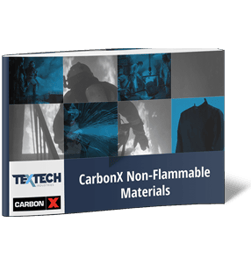 CarbonX products are constructed to be truly non-flammable. They will not burn, melt, drip, ignite, shrink, or char when exposed to direct flame or extreme heat. Even after intense exposure, CarbonX products maintain their strength and integrity and continue to protect.
We've put together a comprehensive eBook that includes the following:
An overview of CarbonX Materials
How it compares to other materials with regard to protection and comfort
A video that shows CarbonX fabric withstanding a 2300

° Butane torch flame

Common fire safety standards
CarbonX fabric applications and much more...
Access the guide by filling out the form to the right!
Tex Tech Quality Policy: Tex Tech will meet its customers' needs and requirements by providing the best value through leadership and continuous improvement of process, service, and the Quality Management System.