The Essential Guide to Textile Coatings
Providing a multitude of benefits that range from abrasion resistance to weldability, textile coatings are used in a wide breadth of industries such as aerospace, medical, automotive and many more.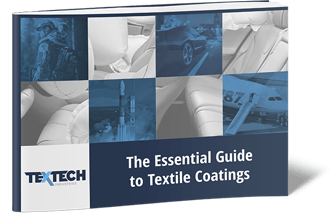 The Essential Guide to Textile Coatings breaks down everything to know regarding textile coatings. Topics covered include:
Benefits
Types
Markets and Applications
Textile Coating Solutions from Tex Tech
To access your copy of the eBook, fill out the form!
Tex Tech Quality Policy: Tex Tech will meet its customers' needs and requirements by providing the best value through leadership and continuous improvement of process, service, and the Quality Management System.