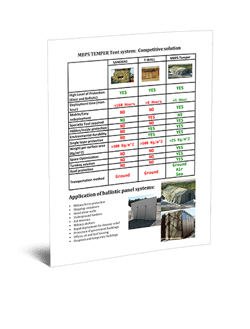 The Modular Ballistic Protection System (MBPS) TEMPER Tent System offers a high level of protection as well as increased mobility and simple redeployment.
Learn more about how our system easily out performs other defensive barriers in terms of durability, redeployment, space optimization, and transportation method availability.
For your reference, we have provided a downloadable copy of our MBPS TEMPER Tent System Data Sheet, which you can access by filling out the form on this page.
Tex Tech Quality Policy: Tex Tech will meet its customers' needs and requirements by providing the best value through leadership and continuous improvement of process, service, and the Quality Management System.