Versatile, Cost-Effective Fabrics With Superior Performance.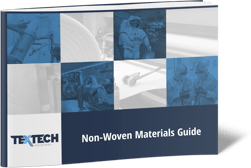 For more than 100 years, Tex Tech has been a leading manufacturer of carded needle-punch non-woven fabrics for industries ranging from fire protection to automobile components.
This guide provides a look at the versatility of non-woven fabrics and their benefits for the future.
Through this guide you will learn about:
Benefits of non-woven fabrics
Types of materials used in non-woven fabrics
Common applications
Future opportunities for non-woven fabrics
and more!
Access the guide by filling out the form!
Tex Tech Quality Policy: Tex Tech will meet its customers' needs and requirements by providing the best value through leadership and continuous improvement of process, service, and the Quality Management System.