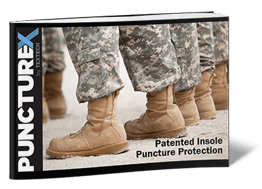 Lightweight, flexible, and puncture-resistant, PunctureX™ composite structures can stand up against the most demanding applications. They are engineered for durability, product integrity, and ease of production.
Learn more about PunctureX including:
Application advantages

Product comparisons

Performance data
For your reference, we have provided a downloadable copy of our PunctureX Insole Puncture Protection Data Sheet, which you can access by filling out the form on this page.
Tex Tech Quality Policy: Tex Tech will meet its customers' needs and requirements by providing the best value through leadership and continuous improvement of process, service, and the Quality Management System.