Silica Products eBook
The versatile Silica line of high-performance woven and non-woven fibers can be customized and tailored to fit your requirements, and their capability to withstand temperatures of up to 1150° C (2102° F) means that they are virtually fire-resistant. Silica products are widely-used in various applications across the automotive, defense, aerospace, railroad, appliance, and shipbuilding industries, and more.
The Silica range of products is divided into three distinct styles, namely: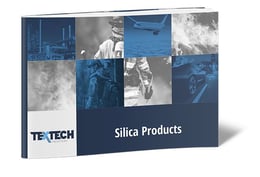 High Thermal Performance Woven Silicon
Oxide Cloth: Style 10089
High Thermal Performance Silicon Oxide
Supported Nonwoven: Style 10087
High Thermal Performance Needled
Si02 Felts
To learn more about our Silica line of products, fill out the form to the right!
TexTech Quality Policy: Tex Tech will meet its customers' needs and requirements by providing the best value through leadership and continuous improvement of process, service, and the Quality Management System.