TexTech 3D Braided Filler Rope Data Sheet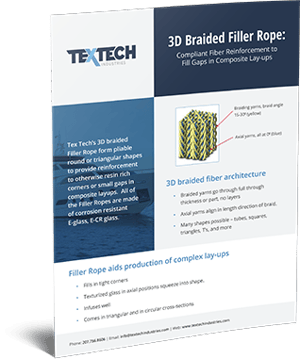 TexTech's 3D braided Filler Rope forms pliable round or triangular shapes to provide reinforcement to otherwise resin rich corners or small gaps in composite layups. All of the Filler Ropes are made of corrosion resistant E-glass or E-CR glass.
If you are interested in learning more about TexTech's 3D Braided Filler Rope, we have put together a comprehensive data sheet that includes the following features:
Fiber Architecture
Production Benefits
Sizes and Roll Quantities
Access the data sheet by filling out the form to the right!
TexTech Quality Policy: Tex Tech will meet its customers' needs and requirements by providing the best value through leadership and continuous improvement of process, service, and the Quality Management System.