ZPlex: Conformable Total Sandwich System Data Sheet
Sandwich panels are superior structural materials offering improved stability, crash worthiness, corrosion resistance, weight savings and cost savings. These cores with curves are a great option for applications where curved parts may be difficult to make with balsa or other rigid foams or materials.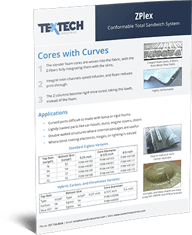 The ZPlex: Conformable Total Sandwich System Data Sheet details various applications, sandwich structure variants, and also includes a collection of frequently asked questions, including:
What is it used for?
Does it crush under vacuum?
How thick can it be?
And more...
To access your copy of the Data Sheet, fill out the form!
Tex Tech Quality Policy: Tex Tech will meet its customers' needs and requirements by providing the best value through leadership and continuous improvement of process, service, and the Quality Management System.