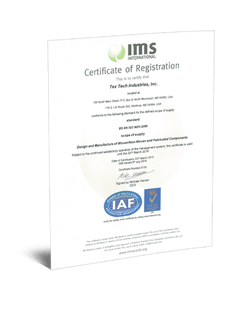 Tex Tech Industries has made a commitment to provide you with quality services and products. We have been assessed and registered with an ISO 9001:2008 certificate for the design, manufacture, and supply of innovative, high performance materials.
The ISO 9001:2008 certification asserts that we are an ISO approved designer and manufacturer of woven/non-woven and fabricated components.
For your reference, we have provided a downloadable copy of our certification, which you can access by filling out the form on this page.
Tex Tech Quality Policy: Tex Tech will meet its customers' needs and requirements by providing the best value through leadership and continuous improvement of process, service, and the Quality Management System.